Quality Data Entry Work – 99.9% Accuracy Data Entry Projects
At Offshore Data Entry we work on philosophy of delivering highest satisfaction to clients through quality data entry services. Our unique and accurate data entry method helps us for quality data entry services.
Schematic diagram of accurate data entry method to produce quality data entry service with 99.99% accuracy is as follows: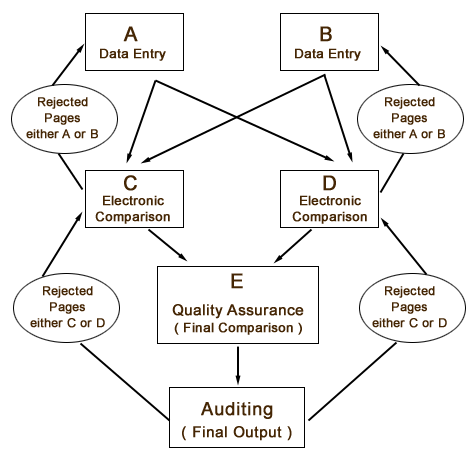 Detailed Description of Method to Provide Quality Data Entry
Data Entry work is divided into batches and each batch of document has a covering "Keying Specification Instruction Sheet".
Two data typists enter the data in different files to generate the output say A & B.
These two files are electronically compared through a software. The program stops where it finds and mismatch between the two files giving the operators the opportunity to correct the mistakes. This type of comparison is done by two data entry operators to generate the quality output files say C & D.
The two files ( C and D ) are again electronically compared to generate the file say E.
The text file ( E ) is audited to check the required accuracy level of 99.995% for quality data entry work.
The data file generated is copied on CDs and couriered to HAS. Simultaneously, the data files are also transferred onto the Internet FTP site on a daily basis.
Contact Us for more information on our quality data entry and save up to 60% on total projects cost. Offshore Data Entry is committed to quality data entry and accuracy of 99.99% in work.